Adblocker Detected! Please Consider Reading This Notice.
We've detected that you are using AdBlock Plus or some other adblocking software which is preventing the page from fully loading. We don't have any banner, Flash, animation, obnoxious sound, or popup ad. We do not implement these annoying types of ads! We need money to operate the site, and almost all of it comes from our online advertising. Please add US to your ad blocking whitelist or disable your adblocking software.
http://twitter.com/#!/CuffyMeh/status/250366314886078464
Oh, our sides! Out: Sad Keanu. In: Sad Obama.
And he loves him some fries: Has Michelle heard about this? The kids rebelling against Michelle Obama's school lunch menu should run with this photo!
Politics & Fries. Pres Obama chats about election w/ college students. (TV Pool Photo by Kimberly Schwandt/Fox News) pic.twitter.com/klCsoYba
— Mark Knoller (@markknoller) September 20, 2012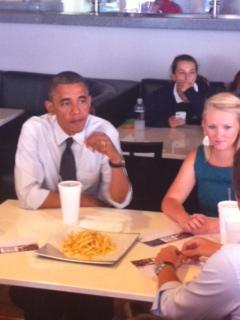 But even the siren call of fries can't cheer up sad, lonely and evidently super bored Obama.
"Yeah, work sucks. The bosses are total douches." http://t.co/5XmJm70A
— Cuffé (@CuffyMeh) September 24, 2012
Oh, the giggles! Presidenting is hard! Why can't he just finish his fries and hit the links? It's not like there is anything important with which he should be dealing!
@CuffyMeh Oh yeah…that's serious "eye candy" right there. /
— #WarOnLeftists (@corrcomm) September 24, 2012
Oh, the humanity. Did you need to mention that hurl-worthy "eye candy" deal? Ugh. The fries don't look so appetizing now.
@CuffyMeh Doesn't look like he's loving this campaign season, does he?
— Retread (@Retread03) September 24, 2012
Shouldn't FLOTUS be slapping those fries out of his hand? RT @sarahbellumd aw..he's so ronery. RT @CuffyMeh: *sigh* http://t.co/bvpQwF2e
— Jim Jamitis (@anthropocon) September 24, 2012
So, so ronery. And soon to be in the doghouse.
https://twitter.com/danielsan0527/status/249737951548940288
Yep.
Start captioning, Twitter! We'd love to see what you can come up with. And so would Sad Obama.
Read more: http://twitchy.com/2012/09/25/caption-sad-obama-cant-he-just-finish-his-fries/